· Home
· About Us
· Podcast Archive
· About Bettas
· Betta Health & Care
· Breeding Bettas
· Raising Spawns
· Genetics Study
· Tail Forms & Finnage
· Colors and Patterns
· The Halfmoon
· The Crowntail
· The Plakat
· The Doubletail
· Wild Bettas
· Betta of the Month
· Betta Critique
· Interviews
· Forum
· Betta Expressions
· Photo Gallery
· Games
· Mailing List/FAQ
· Strain Gallery
· NEW! This Month

Home > Genetics Study > The Ever-Changing Marble


Contact Us via Email

Send To Friend

Printer Friendly Version


The Ever-Changing Marble
By: Victoria Parnell
Submitted: 3/30/2006


Think this is your run-of-the-mill turquoise? READ ON!

It is easy to become intrigued with marble bettas. For one thing, they are among the most beautiful betta patterns in the world, with their splashy spotted color and variety. Those that decide to breed marbles are faced with one of the greatest challenges in Bettadom; that is the definitive instability of the gene. You can purchase a fantastic marble betta with a gorgeous high contrast pattern, and within a month of having him he might keep "marbling out" until he is completely colorless (cellophane), darken until he is solid-colored (unmarble), or even change pattern and color until he looks like an entirely different fish! He might continue to morph and change his entire life; frustrating for some and provocative for others who may enjoy watching their betta morph.

Breeding them presents an even greater challenge, since any marble x marble spawn may produce any combination of marble, cellophane, butterfly, and solid. Then, just about the time you've picked out your favorites from the spawn, they will begin to change: Marbles will gain color until they become Butterflies. The pattern of the Butterflies will fill in until they become solids. Cellos may gain color to become marble, and solids may lose color entirely to become cellos

So why does this happen?

The marble pattern exists because of genetic transposable elements, otherwise known as a "Jumping Gene". These are certain genes which are capable of moving from one location to another on an organism's chromosomes. Sometimes they will insert in places where they interfere with gene expression. This results in a cell's (and its daughter cells') inability to perform certain tasks associated with that gene. Because the 'jumping gene's' residence at a particular place in the chromosome is only temporary, the inability of the gene interfering to express itself is only temporary. This is what causes the change of pattern in a marble betta, and sometimes the complete and utter change of color.

If a jumping gene is present and it inserts itself into a gene responsible for producing a colored pigment, it stops the production of colored pigment, and all the progeny cells will be unable to produce color. This results in a colorless patch appearing; looking like a white or cellophane patch. The reverse can happen too! If the cells are unable to produce color because the transposable genetic element is present and then the element leaves, the progeny of this cell will be able to produce color again (reverts) and a colored patch will appear.

Confused yet? Perhaps this will help to clarify things. The below series of photos was taken by fellow breeder Ilse, of the Netherlands, and depicts a solid colored turquoise Crowntail betta that obviously carries the marble gene, although it is not evident in the first photo! Photos used with permission.




Here we see a pretty standard solid colored turquoise betta.







In this photo the fish is clearly getting a bit older (note the longer fins), and is still a nice little turquoise. But what's that?? THERE! On his head! This is about the time those hobbyists who had have limited experience with marble bettas think, "Oh no, is my betta sick?"







In another week or so the pale discoloration continues to grow. In spite of its appearance the betta still acts very healthy. This is usually about the time the amateur gets nervous and might be tempted to start medicating their fish for everything under the sun -- DON'T! Unless your betta is acting sick and lethargic or you can clearly diagnose what the trouble is, put the medication away. You could easily kill a perfectly healthy betta by unnecessarily medicating it. And you never know if next week your "discolored" betta might turn into...







Taaa-DAAAA! Even the amateur would be hard-put at this point to deny their betta has a marble gene. You can clearly see the way the "discoloration" has lightened into a flesh-colored patch and is beginning to spread over the torso. The jumping gene is also affecting certain areas of the finnage by creating white and colorless streaks.







This boy ain't done yet! The Jumping Gene continues to eliminate the colored cells until the betta has a flesh colored body. It continues to affect the fins by reducing the expression of the turquoise and replacing it with white or clear. The red "wash" that was always present in this fish from the beginning now stands out more noticably, creating a very nice, contrasty, colorful tricolor marble!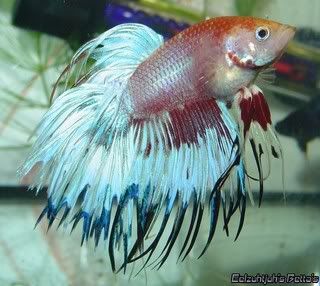 A little later you can see how ruthless the Jumping Gene is in its quest to liberate this poor fish from its turquoise. The blue color literally appears to be melting away. The only thing unaffected was the red pigmentation scattered over the body and in the fins. And now, let's take one last look at our boy: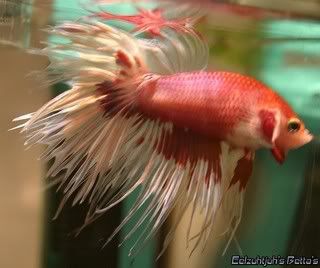 Solid turquoise to Cambodian Butterfly?! That's why we love the marble gene. You just never know what you're gonna get. And get...and get...and get....




Category: Genetics Study


Contact Us via Email
Send To Friend
Printer Friendly Version
What's Your Opinion?
Post your 2 cents here. Let us and your fellow readers hear your views on the articles we have here at bettysplendens.com. Your posts will appear on the front page along with a link to this article. It helps everyone participate in the conversations such posts generate.
Featured
.
HEJSAN FROM SWEDEN EVERYONE! Everything in Sweden is going well, although I'm still busy learning the language and coping with a newborn, so it will be a bit before I'm as active as I'd like with the fish. This is a Facebook update! I have created a new BettySplendens Facebook page that will be used exclusively for betta-related networking. On the 16th of August I will be going through and deleting most of the people on my personal Facebook page who are not actual friends or family (many of you have become friends through the course of the hobby, and of course will not be deleted). If for any reason you wish to remain on my personal page, please let me know by emailing bettysplendens@yahoo.com, or FB email. Otherwise, go to the new BettySplendens Facebook page and click the 'like' button for more betta-related news and updates :).

Tack så mycket (that's ''Thank you very much'' in Svenskie-land ;))! ~Victoria~

Slight change of plans! I have decided that, instead of reinventing the wheel, I'm going to create a personal FB page and use the old one purely for betta stuff. So if you're on the original page (now called BettySplendens Bettas), please stay put! :P

For all the betta inquiries:
Just a reminder, I am not selling bettas in the US at the present time. I may begin to supply a few select bettas throughout Europe sometime in late Spring 2011. Cheers!

Spotting the Orange Dalmatian
Ever since it first started being widely seen in pet stores around late 2004, the spotted orange betta has taken the hobby by storm. But what exactly is it?

Finnage Variations
Bettas today come in a wide variety of forms, and new ones are being created all the time. Here are the most popular.

Choosing a Betta
There are basically three ways of purchasing bettas. Buying them from a pet store, buying them from a breeder, or buying them online. I'll run through some important things to consider in each of those options.

The True Story of the Halfmoon
The true story of the creation of the Halfmoon betta.

Defining a Good Crowntail
For the purpose of showing in the CT class, Crowntails are defined as bettas exhibiting at least 33% reduction in webbing versus ray length in each of the three primary fins (caudal, anal and dorsal). This requirement must be demonstrated in all three primary fins but does not need to be exhibited between all rays to meet the minimum requirement to be classified as a Crowntail betta.

Bringing Home Your New Betta
Buy a Betta at a pet store? Find out how to best introduce him to his new home.


© 2013 Victoria Parnell. All Rights Reserved. All Logos and Trademarks are property of their respective owners. Powered By The Alfred Web Publishing System v3.1